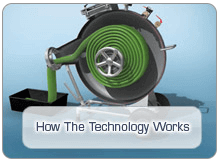 HOW THE TECHNOLOGY WORKS
Both in practical applications in millions of dollars of rehabilitation projects, and also independent testing*, the Brawoliner solution has proven to be the best performing system time after time. In terms of being able to repair around bends of up to 90 degrees, repair satellite junctions, and provide repairs with quality, precision and the lowest failure rate in practical application our systems and solutions are unsurpassed. Read more about the advantages of our solutions and technology on this page here.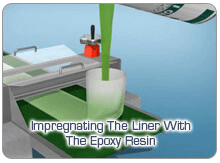 The key to the technology are the patented liners and resin created by Brawoliner. These high performance solutions are used to reline the effected sewer pipe. The high performance of the liner comes from its flexible polyester loop construction that enables it to expand to line pipes of varying diameter, while also being able to negotiate multiple 90 degree bends without wrinkling, for an overall seamless, smooth finish inside the pipe. The resin itself is highly resistant to chemicals and abrasion while remaining environmentally friendly, with a durability of over 50 years.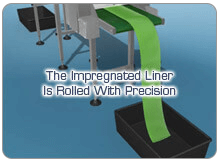 INVERSION RELINING
With the inversion relining process, entire pipes can be relined and rehabilitated. How this process works can be shown in videos below:
The liner is impregnated with the resin, and is then rolled out in a clean and precise manner which helps with the performance of the reline. It is then rolled into the inversion drum, from where it is inverted into the pipe, and where it then cures to create a hard, and permanent pipe replacement.
PATCH REPAIRS
For smaller repairs up to 2m, the resin and a liner can be used with a packer (inflatable bladder) to be precisely placed at the part of the pipe in need of patching, before it can be inflated into place and cured.
SATELLITE JUNCTION REPAIRS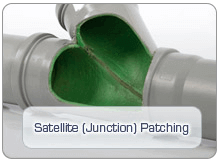 Using custom liners and fast curing procedures, it is also possible to reline broken satellite junctions, for an excellent solution to what has previously been a complex repair.

For the best technology, research and development and training for all of your relining system needs, the Brawoliner system from Australian Pipelining Supplies leads the field in every way. We invite you to visit our training facility to see the superior results of the system for yourself, or read more about the advantages of our solutions on this page here.
To find out more about our pipe relining solutions and systems, call and speak with Australian Pipelining Supplies today, or order a FREE information pack online here.
*Independent government-funded IKT - Institute for Underground Infrastructure testing on 'Tube Liners for Lateral Pipes' found Brawoliner to be the best performing system.