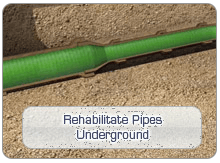 It works by placing a patented epoxy lining inside of the existing pipe, and then forcing it to the sides of the pipe where it forms the shape of the new pipe. It is then hardened to form a brand new pipe within a pipe, with all the properties and reliability of a replacement pipe - but without the cost and time of digging trenches.
Read more about Australian Pipelining Supplies' technology here, our range of relining products and solutions here, and about the advantages of our technology here.
Or to find out more about how Australian Pipelining Supplies can benefit your plumbing and drainage business, order a FREE information package on this page here, or call us with any questions or queries direct on 1-300-277-111.