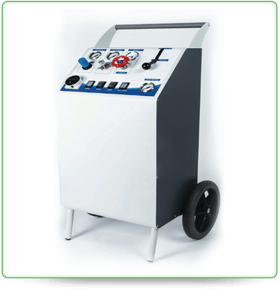 ADVANTAGES
Sactools Steam generator can be used inside all properties where 3-phase, 400v, 16a outlet is available. Quick start-up, free from diesel spills and fumes. Continuous water connection to the steam unit allows continuous operation. Low centre of gravity, large wheels and ergonomic design makes the transportation of the steam generator convenient all the way to the workplace. Easy to understand and secure operation with all controls grouped in a control panel with clear symbols.
MULTIPLE USES
Our new electrically heated steam generator is developed for the use in the curing of branch pipe underground, but also for liners in lateral pipes, and in liners of limited lengths of horizontal pipes underground.
By adding heat during curing, the installation of epoxy impregnated liners and branch pipes will be safer and much faster. With secured temperature the risk that the installation tool removed too early is eliminated. The curing is faster and more installations can be done during the working day.
EASY TO OPERATE
Connect the Sactools steam unit to a 3-phase, 400volt, 16A socket, compressed ai and a water outlet. The pressure and the flow of the compressed air is controlled, as well as the temperature of the air and steam mix. The operator easily switches between air pressure and vacuum with one lever.
This facilitates the branch pipe installations.
When the branch pipe is in place the steam is activated, which flows through the branch pipe installation tool. The return hose from the branch pipe installation tool is connected to the steam generator, where the flow - and thus the temperature of the tool - is controlled.
INLETS Water Supply, minimum 4 bar , 3-phase, 400volt, 16Amp electrical supply, Compressed air minimum 180L/min, Return from branch pipe installation tool
OUTLETS Mix of compressed air and steam, Outlet from return control valve
SPECIFICATIONS Total power consumption (electronics and heat): 5KW Heating power: 4.8KW, Steam capacity: 7kg/h, Warm-up time at 10ºC water: about 8 minutes, Dimensions in mm: height 1060, depth 500, width 580, Weight: 60 kg