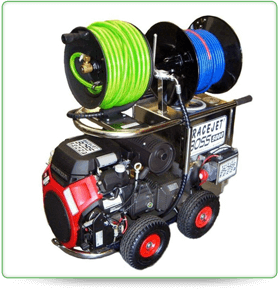 Specifications
The RaceJet BOSS 5000 is the top of the line in the portable water jetter range. It features a full stainless steel chassis, water tank and fuel tank.
You can remove the wheels leaving just a chassis to mount to your truck, ute or van. Built by plumbers, for plumbers, it features quality inclusions like anti syphon plates built into the water tank, glass matt battery, racing style filler cap, multi-direction hose reel mounts, dual water and pressure hose reels and a full 3 year warranty. It was designed to take up the smallest amount of room on your vehicle measuring only 55cm wide.
Applications
The RaceJet BOSS 5000 has to power to clear all general blocked drains and is capable of clearing 32mm pipe up to 150mm pipes with ease.
It is one of the most smallest yet most powerful water jetters on the market today. It can also be removed from the truck and wheeled on site for commercial applications. This machine is purchased by plumbers who appreciate the extra work that goes into a high quality hand made machine.
| | |
| --- | --- |
| Pressure: | 5000 psi |
| Flow: | 23.5 Ipm |
| Engine: | Honda |
| Pump: | Bertolini |
| Power: | 27 hp |
| Weight: | 140kg |
| LxWxH: | 105 x 55 x 107 cm |
| Warranty: | 3 Years |