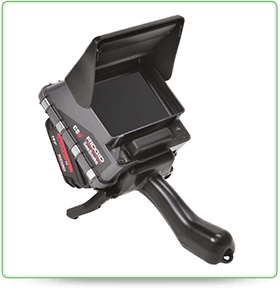 Ridgid CS6X Monitor
With all the standard features of the CS6 Monitor now with included Wi-Fi and Bluetooth connectivity. With the added ability to stream and/or record inspections to the latest iOS or Android devices. Enabling fast, efficient results.
Features:
Wi-Fi and Bluetooth - Stream or record inspections to an iOS or Android phone or tablet with the free HQx Live companion app
Storage Option - Capture images and video directly to a USB drive
Water-resistant keyboard - Direct control of camera and monitor functions
Transport and Storage - The CS6x mounts to the SeeSnake Max RM200 docking handle for easy transport and storage.
Daylight Viewable Display - Provides a crisp, clear, in-pipe image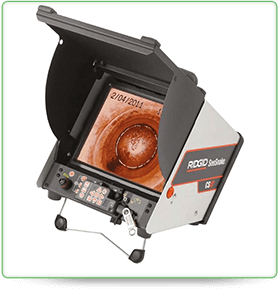 Ridgid CS10 Monitor
The CS10 Monitor combines RIDGID® durability with the easiest to use digital recording monitor in the industry. One touch recording allows you to record snapshots and video directly to a USB stick then hand it directly to your customer.
Features:
USB Stick - recording lets you record digitally into a format that your customer can read on their computer
12.1" Daylight Readable Display - allows you to easily monitor and record inspections in bright outdoor environments
Integrated Line Tracing - allows tracing the reel push cable with a RIDGID locator (requires a RIDGID transmitter)
Multi Mode Recording - lets you take snapshots, record full frame video, and record in a lean video format called Auto-log (small files)
Software Integrations - with SeeSnake HQ™ allow you to deliver your inspections in a wide array of formats from online to DVD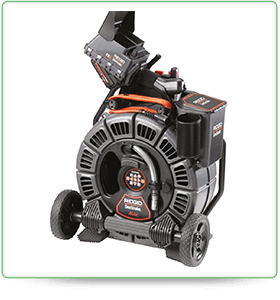 Ridgid RM200 Camera
The RM200 Camera System combines portability and versatility to make your drain inspections easy and efficient. The RM200 features a newly designed push cable for greater abrasion resistance. The Ridgid CS6 Monitor can be purchased separately and locks into the handgrip.
Interchangeability
The D2 drum series currently consists of the D2A and D2B drums
The RM200 comes with your choice of drum
Either drum can be purchased separately
Own them both; quickly and easily interchanged giving you on-the-job flexibility
Pushability
Drums feature different push cable lengths, diameters, stiffness and springs
Choose the drum that enables you to easily negotiate turns and tees
there's a drum that's right for you!
Portability
Easy to transport; via its wheels or carry handle
Dock the CS6 or CS65 digital monitor for convenient transport, operation and storage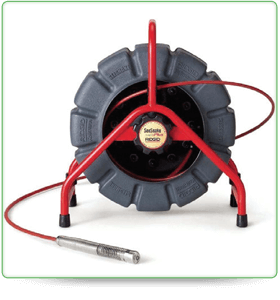 Mini-SeeSnake Plus Camera
The SeeSnake Mini video inspection system offers unmatched reliability and performance in a ruggedized package. The Mini is now also available with an optional durable self-leveling camera head.
Features:
1 1/2" to 6" (3.8 to 15 cm) Lines up to 200' (61)
Ideal for where portability and manoeuvrability are crucial: multistory buildings, rooftops, confined areas, etc.
Optional Self-Leveling Camera Head - Crisp, clear, upright in-pipe images
Built-In 512 Hz Sonde - allows you to locate a point of interest during a pipe inspection
Metal Frame and Rugged Drum - stands up to the rigours of a variety of demanding jobsites
Push Cable - pushes further; tackles a wide range of lateral and mainline applications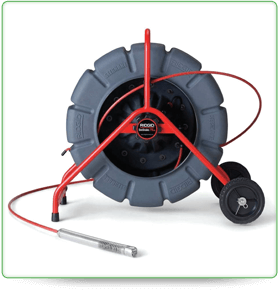 Ridgid Large Camera
RIDGID SeeSnake video inspection systems offer unmatched reliability and performance in a ruggedized package.
Each system offers:
100% hardened stainless steel camera head spring assembly for optimum durability.
Rugged, high-intensity lights for exceptional viewing and long life.
Flexible transmitters make locating easy and are compatible with RIDGID locators.
Can be used with any SeeSnake monitor or recorder.
Features:
2" to 12" (5 - 30 cm) Lines up to 325' (99m)
Wide pipe diameter capacity range makes this system ideal for a wide range of inspection needs.