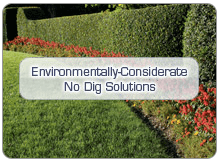 PROTECTING THE ENVIRONMENT AND PUBLIC HEALTH
Leaking sewer pipes are a clear threat to the local environment and public health. Our robust and reliable underground relining solutions, make it easier than ever to rehabilitate long lengths of pipes and protect the local environment from sewer leakage.
MORE ENERGY EFFICIENT AND LESS WASTEFUL
Without the need to run diesel excavators for days, relining can also be more energy efficient. Not only that, but by saving lines rather than digging them up and replacing them it can be less wasteful too.
SAVE LANDSCAPING
Our relining solutions also help the local environment by avoiding the need for destructive trench digging, which can irrevocably harm landscaping, trees, and habitats for local wildlife.
When you're looking to "go green" with your plumbing, drain and sewer solutions, call and speak with Australian Pipelining Supplies today, or click here to order a FREE information package.