The Picote Coating System is a simple, fast and practical coating system used for drain and sewer renovation. Coat unlined or lined pipes or connections from DN32 - DN150 / 1¼" - 6" with the Picote Coating Pump and Mini Miller combination. Coat anything from a small area (such as a lined connection) to entire piping systems, for example blocks of flats using an unique world-class vegetable-oil based resin with strong bonding properties for cast iron, PVC, concrete or clay pipes.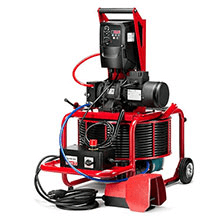 Picote Coating Pump
SIZE (WxLxH): 26x42x54.5 cm / 10.2x16.5x21.5"
HOSE: 8/10mm
RANGE: Max 15m / Max 50ft
ROTATING SPEED: Depends on pipe diameter
OUTPUT: 5kw
POWER SOURCE: Electric
WEIGHT: 15kg / 33.1lb
Click here for more information (pdf size 9.3Mb)
For more information on our range of comprehensive system and supply solutions call and speak with Australian Pipelining Supplies today.